Up to 25%off on saving packages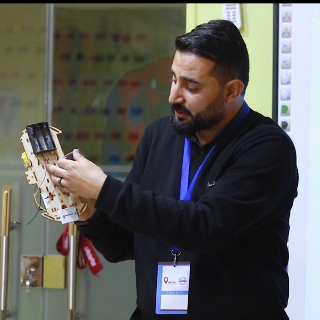 Ahmed M

Speaks: Arabic , English
Certified teacher 5-10 Total years of experience
Location: Qism Bani Sweif, Bani Sweif, Beni Suef Governorate, Egypt
Nationality Egyptian
مهندس كهربا وبرمجة للأطفال من سن 8 سنوات
---
subjects Startups business /entrepreneurship, Robotics
About the tutor
تدريب الطفل على اساسيات الكهرباء.والبرمجة عملى من سن 8 سنوات ليواكب التطور التكنولوجى وتم تدريب نحو 250 طفل على مستوى محافظة بنى سويف .مصر .وتم عمل مشاريع مثل الروبوت كار..اشارات المرور ..التحكم بالانارة عن طريق الصوت ...وعن طريق الريموت..الموبايل اعداد مدربين قادرين على فتح مشروعات خاصة بهم تدريس لعلم البرمجة للأطفال
Which students want to teach and train?
Student's gender he teach Both (Male/Female)
Student's level he teach Elementary,Middle School,High School;
Teaching Experiences
Country of Experience Egypt
Student levels that had been taught Junior,Elementary,Middle School
---
Tutor 's availability
Contact the tutor to book your first lesson
The tutor has flexible availability, you need to message the tutor to organize the first lesson time. Send a message and propose the suitable options for you.
Instructor Reviews
(Reviews can only be made by tutor`s students)
---
Emad Abdulqader
12/20/2022
مدرب مميز جدا و اسلوبه ينمي عند الطالب التعلم الذاتي و القدرة على معالجة المشاكل.
Policies
Teaching Method: Online lesson ,
Hourly rate: 17.29 USD Online lesson |
Lesson cancellation policy: Full refund if you cancel the lesson within one hour of booking creation or 24 hours before the lesson start time. Also, your first hours is protected by our "100% Satisfaction Guarantee" policy.
Background check passed: on 06/05/2021
Required Level of study
Choose your level to calculate the price
Fees
Book more hours to get cheaper price
Single booking
Lesson duration from 20-180 minutes
One lesson /60 mins

Packages
Discount depends on package hours
10 hours
USD
Discount 15%
12 hours
USD
Discount 15%
15 hours
USD
Discount 15%
16 hours
USD
Discount 20%
20 hours
USD
Discount 20%
25 hours
USD
Discount 25%
Tutor number provided after booking
Payment methods