Up to 25%off on saving packages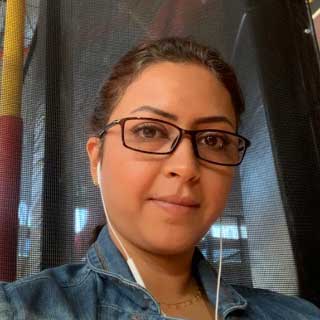 Wasan B

Speaks: Arabic , English
Certified teacher 2-4 Total years of experience
Location: Amman, Jordan
Nationality Yemeni
5 سنوات خبره في التوعيه الذاتيه والتنميه الروحية
---
subjects Meditation, Human development , Stress management, Self confidence, Life coach, Mental health
No statistics available
Matching score: Appropriate
42.27 USD/Hour
No reviews
About the tutor
- بكلوريوس تحاليل طبية. معالجة بالطاقة الحيوية برانك هيلينج ارهاتك يوجا - مدرسة البرانك هيلينج العالمية, اخصائية تنفس علاجي (مدرسة التنفس العلاجي الامريكية) تنمية ذاتية من الاكاديميه الدوليه حاصله على دورات في: قوة الكلمة والتفكير, دورة ا سلسلة التوازن - دوره برمج عقلك صح _دورة قوة التقوى - دورة الثراء المالي -
Which students want to teach and train?
Student's gender he teach Both (Male/Female)
Student's level he teach Adult-professionals;
Teaching Experiences
Country of Experience Jordan
Student levels that had been taught Adult-professionals
---
Contact the tutor to book your first lesson
This tutor accepts booking in the following hours, you might also suggest a different time by messaging the tutor .
Instructor Reviews
(Reviews can only be made by tutor`s students)
---
No Reviews Yet
Add Your review and evaluate the instructor
Policies
Teaching Method: Online lesson ,
Hourly rate: 42.27 USD Online lesson |
Lesson cancellation policy: Full refund if you cancel the lesson within one hour of booking creation or 24 hours before the lesson start time. Also, your first hours is protected by our "100% Satisfaction Guarantee" policy.
Background check passed: on 16/07/2020
No resume has been added yet
Required Level of study
Choose your level to calculate the price
Fees
Book more hours to get cheaper price
Single booking
Lesson duration from 20-180 minutes
One lesson /60 mins

Packages
Discount depends on package hours
10 hours
USD
Discount 15%
12 hours
USD
Discount 15%
15 hours
USD
Discount 15%
16 hours
USD
Discount 20%
20 hours
USD
Discount 20%
25 hours
USD
Discount 25%
Tutor number provided after booking
Payment methods