Up to 25%off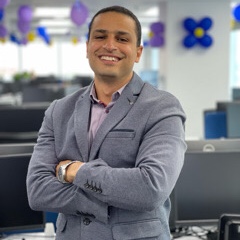 Ismail K

Speaks: Arabic , English
Certified teacher 2-4 Total years of experience
Location: 6th of October City, Giza Governorate, Egypt
Nationality Egyptian
Experienced Trainer in Business Management fields
---
subjects Strategic management , Organizational behavior , Sales Skills , Self development training , Decisions making skills , Communication skills , Leadership /teamwork skills , Anger management , Marketing , Business Administration Economics ,
About the tutor
Seven years experience in Top Ranked American Company. MBA Holder with diversified set of experiences skills covering portfolio of business topics Leading People Inspiring People Change Management Persuading Others Risk Management Selling skills Communication Skills Decision Making Emotional Intelligence Interview Preparation Business Administration Self Development Career Planning Strategic Management
Which students want to teach and train?
Student's gender he teach Both (Male/Female)
Student's level he teach High School,College/University,Adult-professionals;
Teaching Experiences
Country of Experience Egypt
Student levels that had been taught High School,College/University,Adult-professionals
---
Contact the tutor to book your first lesson
This tutor accepts booking in the following hours, you might also suggest a different time by messaging the tutor .
Instructor Reviews
(Reviews can only be made by tutor`s students)
---
شذا محمد
8/29/2023
الاستاذ متمكن من الماده ، شرحه سهل وبسيط معلم بالمجالات الحديثه في الاداره ،ومستمع جيد للطالب
Policies
Teaching Method: Online lesson ,
Hourly rate: 25 USD Online lesson |
Lesson cancellation policy: Full refund if you cancel the lesson within one hour of booking creation or 24 hours before the lesson start time. Also, your first hours is protected by our "100% Satisfaction Guarantee" policy.
Background check passed: on 06/03/2023
Required Level of study
Choose your level to calculate the price
Fees
Book more hours to get cheaper price
Single booking
Lesson duration from 20-180 minutes
One lesson /60 mins

Packages
Discount depends on package hours
10 hours
USD
Discount 15%
12 hours
USD
Discount 15%
15 hours
USD
Discount 15%
16 hours
USD
Discount 20%
20 hours
USD
Discount 20%
25 hours
USD
Discount 25%
Tutor number provided after booking
Payment methods